We are back and ready to host our 19th Annual Hornet Invitational.
Please join us Saturday, September 30, 2023 at Hornet Stadium located at 7173 FM 1628, San Antonio, TX 78263. We look forward to hosting your bands!
REgistration & Spectator Information
2022 Event
Band Directors
If you are interested in participating, please complete the online form below. Your information will go directly to our HI Committee for processing. Deadline for submission is September 1, 2023.
For questions, please contact:
Spectator Entry Fee
$10 for adults, $5 for students (Educators, Silver Pass and Children 5 years old and under FREE)
The HI marching contest runs on time and you must be in the stands before your band performs. Audience members are not allowed to enter the stadium seats while a band is performing.
Please see Schedule of Performance – Coming closer to the Event (see below) to ensure you are seated before your band performs.
Band Registration & Fee
Entry Fee: $300
Checks Payable to:
East Central Band Boosters
PO Box 868
Adkins, TX 78101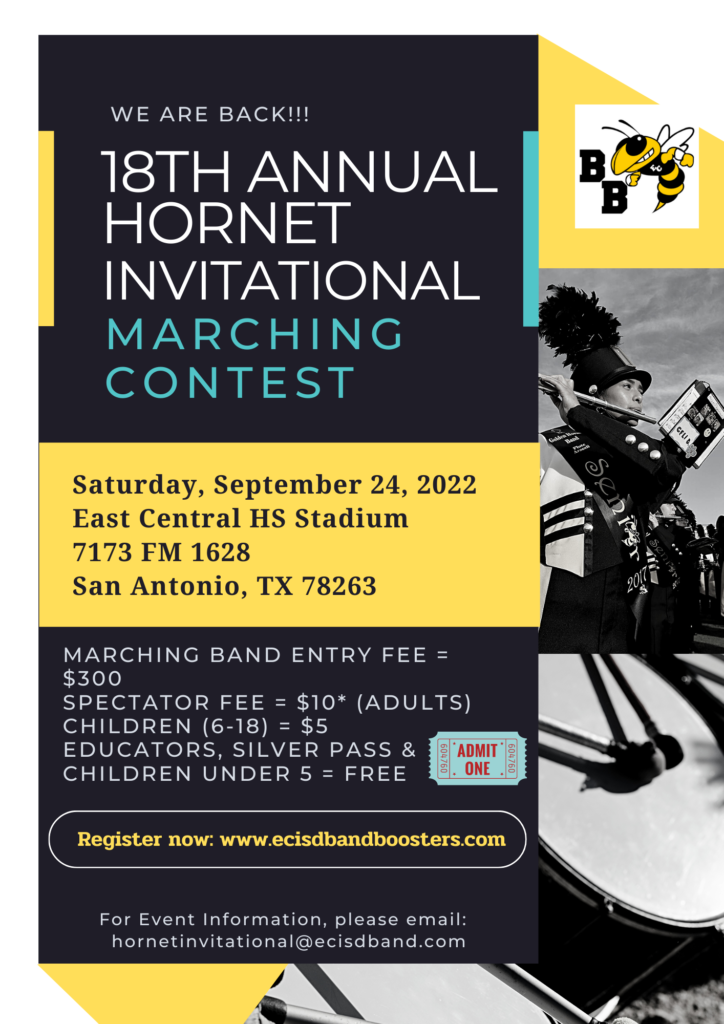 Parking Map (N/A)
Parking Attendants Will Be On-Site to Direct Traffic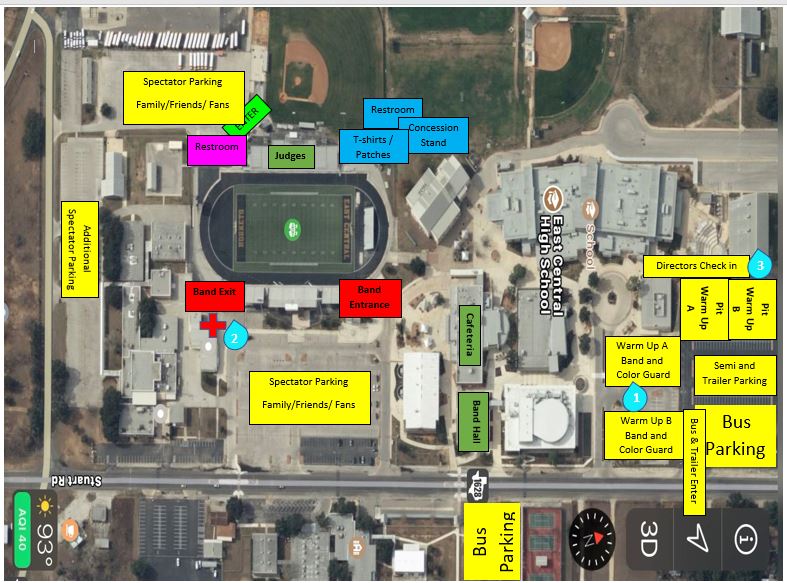 Schedule of Performance
Class – Band – Warm Up – Perform
Exhibition EAST CENTRAL HS 1020 1100
3A Natalia HS 1050 1130
4A Antonian CPHS 1105 1145
4A John F. Kennedy HS 1120 1200
4A Memorial HS 1135 1215
4A Floresville HS 1150 1230
BREAK (Break times may vary pending rain delays)
5A Harlandale HS 1220 100
5A McCollum HS 1235 115
5A Southside HS 1250 130
5A Lanier HS 105 145
5A Seguin HS 120 200
BREAK
6A Converse Judson HS 150 230
6A Buda Johnson HS 205 245
Retreat (Retreat time may vary pending rain delays) 315
HI Judges
Thank you to our Judges!
Percussion Judge
Dean Ponseti
Color Guard Judge
Alex Sanchez