VOLUNTEER OPPORTUNITIES OPEN
18th Annual Hornet Invitational Marching Festival
We are back and ready to host our 18th Annual Hornet Invitational at East Central High School Stadium.
HI Volunteer meeting and walk-thru will take place closer to the event. Please complete the form below.
Questions regarding marching contest, please contact Becky Luna @ 210.748.2997.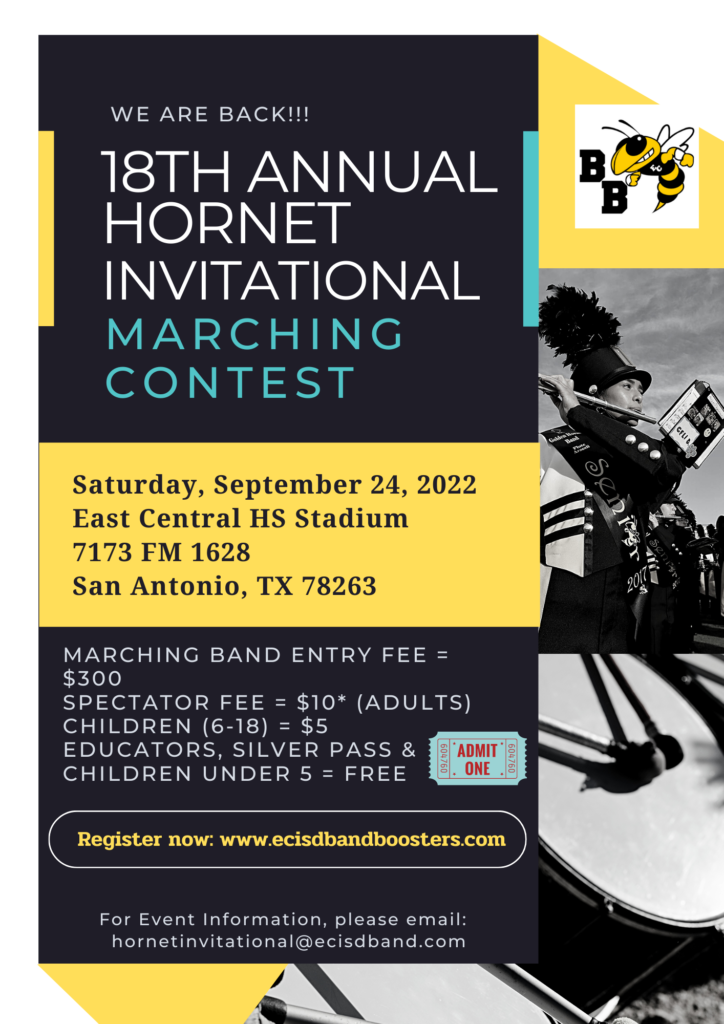 Volunteer Opportunities
Host
Greet band guests upon arrival, show them check-in, facilities, and escort them to warm-up and performance venue.
Water Stations
Hydration is important for our guests. Stations are supplied with water and served to our guests before and after performance.
Traffic Control
Our guests travel with their biggest fans! Help guide bands and their guests to park in their designated area. Stopping traffic when bands are in transition from one location to another.
Ticket Sales & Band Swag Sales
Monitor entrance gates, sell tickets, patches, and programs.
Sign up to Volunteer!
The invitational event prepares our band and guests for upcoming UIL Marching Competition(s). ALL band families are needed to make this event a huge success.